Hi,
since we've been talking quite a bit about various aspects of caligae design and (re)construction and the idea for a dedicated homepage has sprung up, I thought up the following: I'm not the guy to undertake building such a homepage but since I'm at the moment making a pair of Valkenburg/Castleford style caliga I would like to document this work here in a series of workingdiary-like posts.
Actually I have built one of the pair as a prototype and it is pretty much finished except for the insole, nailing and finetuning the strap lenghts:
At this stage I took the dimensions of the shoe, placed it on a copy of the pattern I originally used, to compare the minor changes I had made underway. Probably not that good to see, but red is the original pattern I used, blue and gray are revisions from the actual shoe: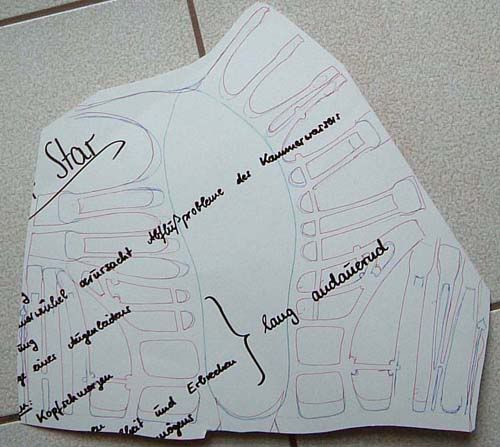 I will need to do a few final adjustments and then recut the pattern for the other shoe.
So much for now, more as I progress ...