I did a gladiatorial show/demo this summer, as part of a theatrical production, after being caught at a weak moment (OK, in the pub after another show!)
Anyway:
Some suitable footwear was needed, and a quick exercise of my Google-fu revealed that anything authentic was to say the least, pricey
hock:
So - a pair of caligae based on the Mainz ones, courtesy of the patterns posted by those kind folk at the Legio Tricessima website.
4mm cowhide throughout, except the 7mm soling bends. Hobnails are from LePrevo Leather, and are a reasonable facsimile, albeit truncated cones rather than fully conical.
Laces are 4mm round thonging.
No dye used - all colour is from soaking in neatsfoot oil.
There are a few decidedly non-authentic bits, in the interests of ease of manufacture, although you might need to look very closely:
Firstly, all seams are glued, then stitched, 'cos that's the way I always do them.
The back seam is bevelled and through-stitched, not butted. You can't actually see this, as I have put a reinforcing strip up the outside of the seam.
I'm not sure that saddle-stitch is authentic either, but I didn't want them falling apart!
Finally, the out-sole is stitched through, not tunnel-stitched, as I don't have the requisite curved awls and needles :oops: In terms of longevity, I don't think it will be an issue, as the stitch line runs in a groove, which is then protected along most of it's length by the hobnails - the head of the nails overlap the stitch groove.
They took a bit of breaking in, but they ended up comfortable enough to wear for reasonably long periods.
These are NOT good on polished floors
They actually turned out slightly too long for my feet, but that is mainly due to my miscalculation of the scaling factor on the cutting pattern - I have very short, very wide feet (UK 8.5 in length, UK10.5 in width...)
Still, I think I know where I went wrong, so the next pair will be better!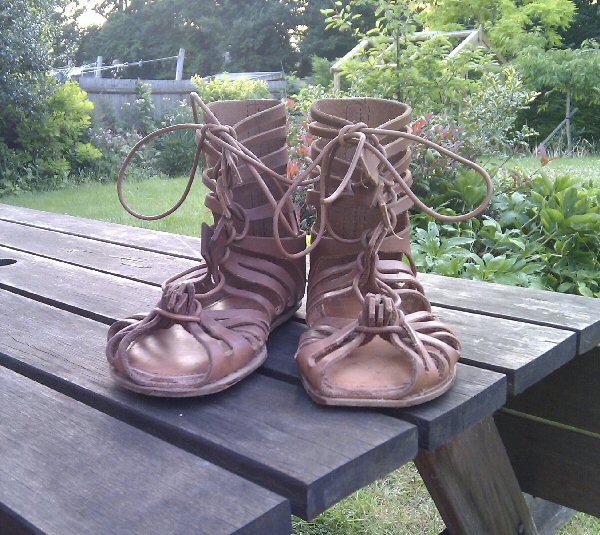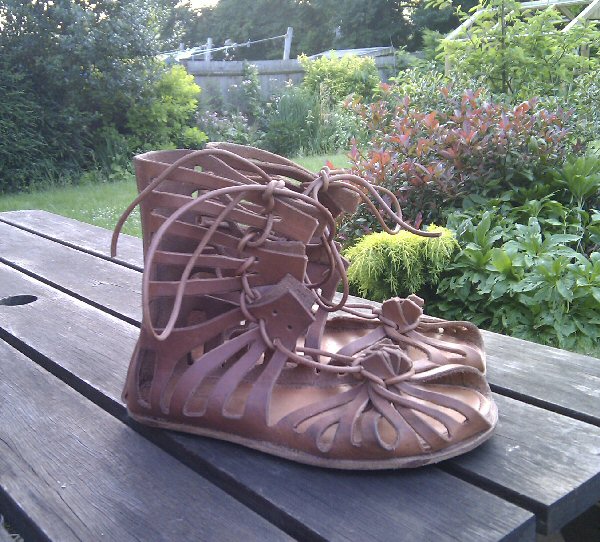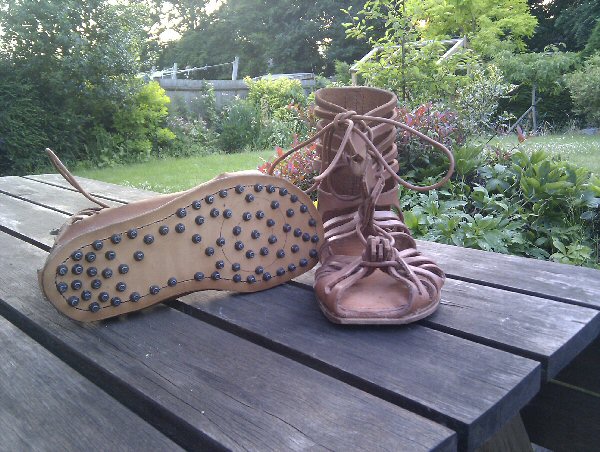 And a quick pic of them on my feet:
Oh, and yes, I know the shield is too small, but my daughter couldn't use it at it's original size, so I cut it down.
The absence of a secutor helmet is due to my panel-beating skills not being up to it: after several failures in raising the sides, I plain ran out of time before the show went up.
I also realise, having read some of the threads in the appropriate forum on here, that I should not be wearing a scale manica with a galerus, but you live and learn - wish I'd found the RAT combat sports forum earlier!.