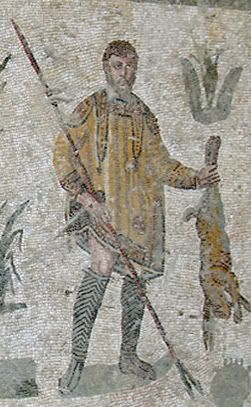 Hello,
At Cohors Prima Gallica we are trying to recosntruct, step by step, the Late Roman civilian hunting scenes depicted at the Piazza Armerina (Sicily, Italy) Small Hunt mosaic.
We have come across a strange, spear-like, hunting weapon. The head is apparently socketed and forked and each end has a barb. It is used for hunting hares, possibly on horse aswell as on foot.
My question is: Have any of you seen any vaguely similar real object we could use as a source to replicate it? :?
Many thanks in advance!
Aitor
It\'s all an accident, an accident of hands. Mine, others, all without mind, from one extreme to another, but neither works nor will ever.

Rolf Steiner