Roman ring belt buckle in Ivory from Dura Europos ~ 260 AD
1.: You must provide at least one good picture of the object.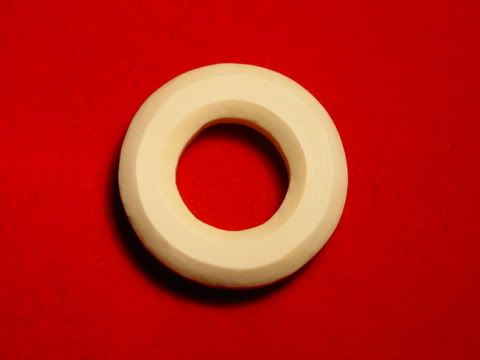 2.: You must name the original that is reconstructed, cite the publication(s) concerned with the object, and provide (a) picture(s) of the original.
The buckle is published in:
James, Simon: Excavations at Dura-Europos, Final Report VII, the Arms and Armour, and other Military Equipment (British Museum Press, London, 2004) pp. 76-77
3.: You must name who made the reconstruction, with what method(s), with what material(s), and you must name any compromises in material and reconstruction method that were made during creation of the object.
I made the reconstruction by myself, the first action was to choose the original from the catalogue.
Then I took the measurements and ordered the raw ivory. As we all should know, ivory is a material which is under the Wahsington law for protection of endangered species. And, I have to add, that is very good. I like Elefants. My choice was to use high-quality mammoth ivory from Sibiria. Having found a vendor, I called him to order the material. The vendor told me, that new ivory is a) cheaper and b) of higher quality. I was slightly puzzled, and asked why. Apparently china buys almost all resources of high-quality mammoth-ivory from Sibiria, so almost nothing of it arrives in Europe. Hence a certified (CITES) piece of recent ivory is cheaper. Weird, isn't it?
It is also legal to buy ivory which was imported BEFORE the washington law was enacted. So I bit into the sour apple (<= German idiom ) and ordered new Ivory.
To cut out the shape I used a Dremel. Everything after that was made by hand, mainly using files, and a hand drill. I polished it with fine sand and linen.
REMEMBER:
4.: Only the text and pictures to be seen in the presentation are used for appraisal, no links. If you have more than three pictures you may make several postings.
Christian K.
No reconstruendum => No reconstruction.
Ut desint vires, tamen est laudanda voluntas.
LEGIO XIII GEMINA