My first object.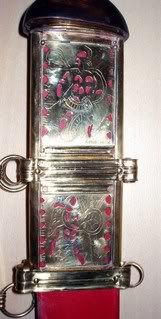 and:
[url:3liwxon7]http://personales.ya.com/ad932102038/germanica/data/fabrica_html/images/Pompeii.jpg[/url]
It's a gladius founded at the river Rhin near Mainz.
It's from the axel Guttmann's collection. You can see the original object at the useful page of the LEGIO VI: [url:3liwxon7]http://www.legionsix.org/sword.jpg[/url]
[url:3liwxon7]http://www.legionsix.org/lockett.jpg[/url]
I have maked both the sword and the scabbard. Sword blade was made by a local armourer: Mr Antonio Prades. It has the typical rhomboidal section. The grip is a cow's bone (metapodia) and guard and pommel are from a hard wood.
To make the plates and chape of the scabbard i have used brass, like the original. I don't want to tin or silver coat the metal, because original ones seems to be unsilvered/untined.
Decorative patterns (Mars, Victoria, etc)are made with a chisel and a jeweler's saw. I don't want to use a dremel tool.
I have to put the suspension bands, the original ones was missed. I have made it with some rods and hammering/annealing work.
The scabbard are made with thin wood with a red tanned leather cover.
It's my favorite sword.
I'll post more things of my equipment next times. I don't have good photos of most of my things.
Thanks for the nomination