I thought about putting this in the Reviews Forum, but since it is more about Latin language than trashing a film, I'll put it here
Anyway for a Hollywood movie I didn't think it was too bad in its treatment of the subject matter (I rated the movie about a 3/5 or so in the Reviews Forum), but I've now watched it twice so I'm starting to pick other little things out here and there that have to do with my interest areas, and this is one of them. Not to spoil the movie, but at a certain point the main character comes to a Roman fort that has been abandoned, and sees this sign on the wall: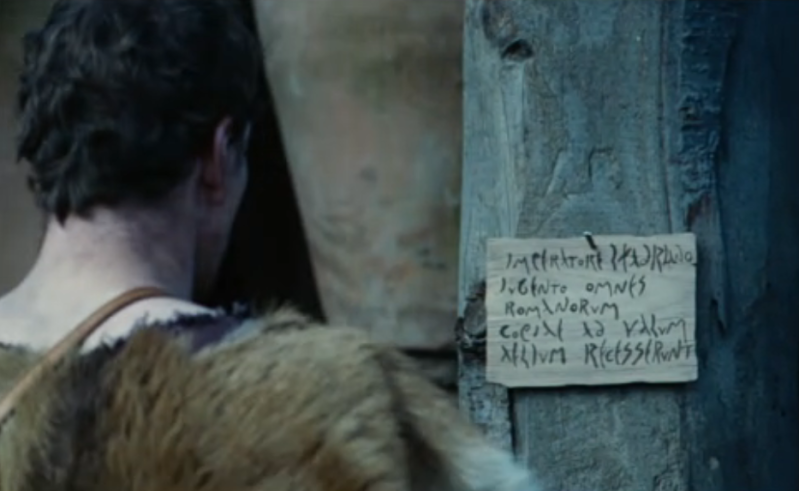 First off, I give them high marks for at least attempting to show realistic looking Latin writing. For me the problem begins in the fact that it's almost "too legible" if you know what I mean; the writings we've found in the dirt in northern Britain look like gibberish to me, so I would kind of doubt that soldiers in a hurry would take the time to describe their actions in scribe-quality penmanship.
But aside from that, it kind of feels to me like they just found some guy with a Latin dictionary to write the message. I read it as:
Imperatore Hadriano
_________ omnes
Romanorum
copiae ad valum [sic]
Aelium recesserunt
Not sure what the first word in the second line is trying to be. Can anyone figure that one out?
For the meaning, I have:
"From Emperor Hadrian,
________ all of the
Roman
troops have retreated
to the Aelian Wall."
Except, "valum" is spelled incorrectly (should be "vallum", cognate with our own word) and it seems to me that "copiae" and "Romanorum" should be the same number (the former is genitive singular, the latter is genitive plural), though I could be wrong on that since "copiae" might be one of those "singular form, plural meaning" kind of words; I'm tired and can't remember offhand :mrgreen: But also, maybe I'm just getting rusty on my Latin, but I can't recall the Romans saying things like "all OF the Romans" the way we do; I could have sworn they would just say like "all Romans."
So anyway, for everyone who is better at this than I am, I'd like some opinions